Frædag: Vinny Villbass performs WINDOWS (live) + Soft As Snow Bit Rot AV show ***pre-sale tickets***
Arrangementsinformasjon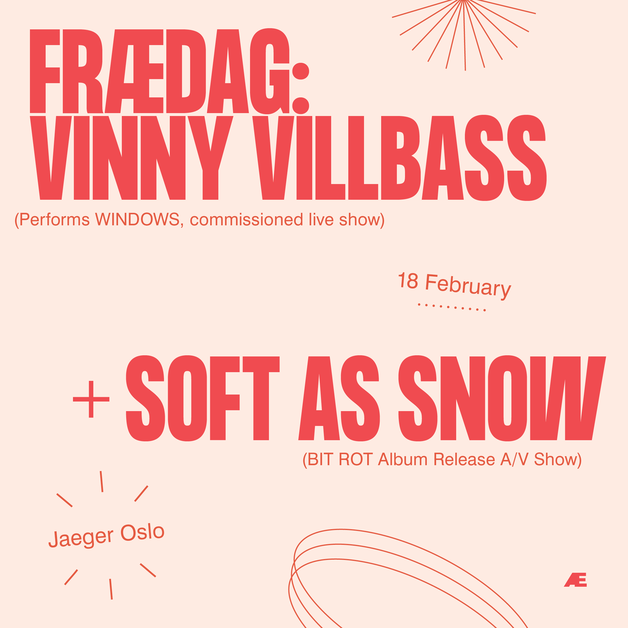 inny Villbass (live) | Soft as Snow (live Bitrot A/V) | g-HA & Olanskii | Øyvind Morken
Vinny Villbass, performs a specially commissioned work for this event. The DJ and artist turns to the stage to play a whole new land exclusive live show at Jaeger.
A unique entity in Oslo's underground electronic community, Vinny Villbass has made a severe impact on the scene here and abroad, working with esteemed artists like Pantha Du Prince, when he's not producing his own music for labels like Eskimo or DJing every week in Oslo. He performs "Windows" a show specifically constructed for the return of the dance floor.
Soft as Snow are also back with a new LP and an AV show for the night. Soft As Snow's New A/V show for their upcoming album Bit Rot is produced with 3D artist Guynoid aka Peri Heath.
They play ahead of Vinny Villbass while Øyvind Morken sets the tone for with an early set for afterwork trips through a psychedelic record collection, before g-HA & Olanskii arrive in the sauna.
#house #balearic #disco #techno #live concert
Set times:
Diskon:
23:00 - Soft As Snow "bit rot" AV show
00:00 - Vinny Villbass performs WINDOWS
01: 00 g-HA (DJ set)
Gården:
18:00 - 03:00 - Øyvind Morken